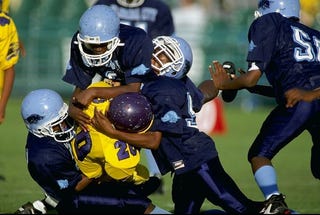 Last football season, the Illinois High School Association (IHSA) escaped a potential doomsday scenario when Cook County Judge Leroy K. Martin, Jr. dismissed a class-action lawsuit brought by former Chicago high school athlete, Alex Pierscionek, who alleged that the organization's concussion polices were negligent and dangerous.

Pierscionek sought logical, but expensive, protections for athletes such as mandatory baseline testing for football players, the presence of medical personnel at practices, and the establishment of a medical monitoring fund to pay for head injury screenings of former players. However, Judge Martin ultimately sided with the IHSA when he dismissed the lawsuit in October of 2015 after finding that football players assume the risk of head injuries and imposing civil liability could cause the IHSA to drop football completely.
The victory was huge for the IHSA as the lawsuit undoubtedly presented an existential threat. The IHSA even expressed such fears in a statement it released in response to Pierscionek's claims:
While this lawsuit alleges that it exists to help aid in that matter, simply put, high school football should not be subject to being dismantled or reassembled. Those who oversee safety measures on a day-to-day basis are the people best equipped to address these improvements, not those operating within the courts. . . .

A lawsuit's attempt to lump all levels of football together has far-reaching implications, potential repercussions that threaten the future of all high school sports for the millions of students around the country who annually benefit from their participation experiences.
Clearly not fans of judicial intervention, the IHSA claimed that coaches and administrators are best suited to address safety issues — not the courts. The IHSA even proclaimed that "since the IHSA began sanctioning football competition, the safety procedures and protocols in place for high school football have been on par with, or have exceeded, those that exist around the country, regardless of the level of football."
That is until this week's shocking report by Evan F. Moore of DNAinfo Chicago.
In Moore's article, he exposed that some Chicago Public Schools are using decades-old football equipment. According to Moore, Sullivan High School in Rogers Park was using shoulder pads that were 20-years-old and dated helmets that were allegedly reconditioned.
However, Kimberly Archie, the founder of the National Cheer Safety Foundation, and a legal consultant on cases involving football-related head injuries, said that "The organization who re-certifies football helmets is just the manufacturer. If you're a parent and you see the recertification label on the helmet, you're thinking some big group is saying the stuff is right but that's false advertisement."
The IHSA and Chicago Public Schools claim that they will not allow any school to compete with outdated equipment.
Yet if the allegations in Moore's piece are true, then there are numerous teams in Chicago forced to compete with unsafe equipment due to budget constraints that the IHSA and CPS are now fully aware of.
And it is this awareness that could land both organizations back in court. If the IHSA and CPS do not ensure that its athlete have safe and modern equipment then those organizations, the schools, and potentially the coaches, face civil liability for not acting to prioritize athletes' safety.
They now know, thanks in part to Moore's reporting, that schools are competing with equipment that is nearly two decades old. They are on notice of the problem and must act to fix it before an athlete suffers a severe injury. Otherwise, the IHSA's grim threat about a lawsuit putting it out of business could become reality.
Steve Silver is a former sports reporter for the Las Vegas Sun and is now a lawyer in Philadelphia who has represented athletes against high school athletic governing bodies in eligibility and due process matters. You can reach him at steve@thelegalblitz.com or on Twitter @thelegalblitz.

Photo courtesy of Getty Images.