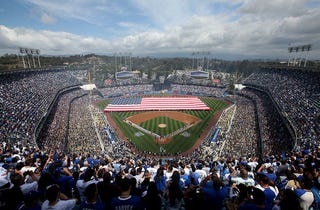 As the nation approaches the 4th of July weekend ready to binge eat hot dogs and gawk at fireworks, two truly patriotic congresspeople have introduced a bill to accomplish the most American of goals — help professional sports team owners and screw over the little guys.

On Wednesday, Rep. Cheri Bustos (D-Ill.) introduced the "Save America's Pastime Act" (H.R. 5580) along with Rep. Brett Guthrie (R-Ky.) to amend the Fair Labor Standards Act (FLSA) to clarify that minor league baseball players are exempt from federal wage laws. In other words, these Congresspeople want to codify that minor leaguers are not entitled to minimum wage or overtime.

The Act serves as a response to a federal lawsuit filed by three former players against Major League Baseball, former Commissioner Bud Selig, and several teams. The lawsuit, Senne, et al. v. Office of the Commissioner of Baseball, et al., (3:14-cv-00608) is seeking certification as a nationwide class action alleging that the minor league baseball system violates the FLSA and other state wage laws by denying players a minimum wage and overtime. The lawsuit avoids treading into the murky waters of baseball's anti-trust exemption, which is why it poses such a threat.
However, Major League Baseball claims that its system is legal as it is not bound by the FLSA due to an exemption for seasonal and recreational employers. The Save America's Pastime Act would remove any doubt as to whether an FLSA exemption applies and would save Major League Baseball from any future costs if the Senne lawsuit is successful.
But why would a Democrat who supports raising the federal minimum wage try to prevent any workers from actually earning a minimum wage?

Follow the money.
As Ryan Fagan of the Sporting News deftly explained, "Minor-league player salaries aren't paid by local owners. Minor-league player salaries are paid by the parent club (same goes for the coaches and trainers). The same front offices that are doling out $100-million deals on a regular basis in the big leagues are responsible for paying a pittance to their minor-leaguers."
And there's the rub.
It turns out that Rep. Bustos is the daughter of Major League Baseball's first chief lobbyist Gene Callahan — a leader in preserving MLB's antitrust exemption. In addition to its patriotic name, the bill also bleeds red, white, and blue as it shines as a testament to the power and influence that those who can afford access to our elected officials wield.
Before scoffing at the notion of paying people who play baseball for a living an actual living wage, keep in mind that the federal minimum wage is only $7.25 an hour and the majority of minor league baseball players earn significantly less than that.

As Mother Jones detailed, although Major League Baseball is booming, raking in more than $8 billion annually, minor league players are largely shut out from the profits. Since 1976, the minimum salary in the majors has gone up more than 2,500 percent; in the minors, it has gone up less than 70 percent. Starting pay for minor leaguers is between $1,100 and $2,150 a month, and only during the season. The salaries break down as follows:
Until a minor league player is placed on a 40-man roster, monthly salaries are $1150 for the short season teams, $1300 for low A and $1500 for high A. For players repeating a year at the same level, the salary goes up $50 each year. For AA, the monthly salary is $1700 and it goes up $100 per month for subsequent years. For AAA, the monthly salary is $2150 per month and it goes up to $2400 the second year and $2700 the third year.
So even though there are thousands of non-unionized minor leaguers living below the poverty line, Major League Baseball can simply phone a friend and ask its former lobbyist's daughter for some help in Congress. Seems fair, right?
"It's despicable. You have billionaire major-league owners working with millionaire minor-league owners to add to their pockets more, and at the same time you have minor-leaguers who are making below the poverty wage," one of the class action's attorneys, and former minor leaguer, Garrett Broshuis told Sporting News. "You're talking about a group of guys whose salaries start at $1,100 per month, and they're only paid during the season. They're not paid during spring training. They're not paid during instructional leagues."
Bustos and Guthrie claim that without this new law, the Senne lawsuit could cause your local minor league team to close up shop. According to their press release, "As a result of this lawsuit filed on behalf of thousands of current and former players, many cities would be in jeopardy of losing their Minor League Baseball teams, resulting in the elimination of tens of thousands of jobs nationwide, shuttering tax-payer funded ballparks and creating a void in affordable family-friendly entertainment."
If somehow the strain of paying a minimum wage was the straw to break MLB owners' backs and the entire minor league system closed up shop, where exactly do Bustos and Guthrie think baseball will go? Major League Baseball needs a farm system to develop talent and plug roster holes on short notice. Even at an operating loss, MLB needs minor league teams.
Maybe the Peoria Chiefs and Quad Cities River Bandits will actually leave Rep. Bustos' district for more salary-friendly locales such as India or Bangladesh.
Then again, Major League Baseball doesn't have to pay a minimum wage here, so maybe the ol' USA isn't so bad after all. Here's to making America cheap again.
UPDATE: Thanks to reader "Dorgon" for the tip that Rep. Bustos withdrew her support for the bill overnight. It makes you wonder what she thought was going to happen when she crafted the legislation initially.
Steve Silver is a former sports reporter for the Las Vegas Sun and is now a lawyer in Philadelphia. You can reach him at steve@thelegalblitz.com or on Twitter @thelegalblitz.

Photo courtesy of Getty Images.