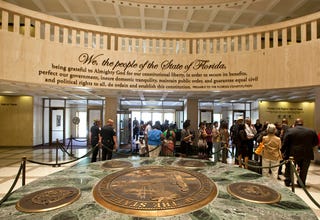 Most sports fans have either never heard of or don't remember Devaughn Darling. A top high school prospect out of Sugar Land, Texas, Darling was poised to become a star linebacker at Florida State. Tragically, Darling died on February 26, 2001 after collapsing during an offseason workout at Florida State known as the "mat drills."

Darling's family sued the university. Florida State claimed it did nothing wrong. In the end, the school settled with Darling's family for $2 million to avoid trial.
Fifteen years later — in one of the greatest injustices in college sports and the civil legal system — Darling's family is still waiting for full payment.
It turns out that Florida State only paid $200,000 at the time of the settlement thanks to a state statute capping a state entity's civil liability at $200,000. Darling's family will not see a dime of the remaining $1.8 million until the Florida legislature approves the payment via a claims bill.
Title XLV, Chapter 768.28(5) provides that "Neither the state nor its agencies or subdivisions shall be liable to pay a claim or a judgment by any one person which exceeds the sum of $200,000. . . However, a judgment or judgments may be claimed and rendered in excess of these amounts . . . but may be paid in part or in whole only by further act of the Legislature."
Sure, bureaucracy is slow, but the university and likely one of the best legal teams it could buy agreed to this settlement. Surely the supreme overlords of "student-athlete" protection at the NCAA would flex their muscle to help the family of a deceased teenager, right?
Wrong.
The 15th anniversary of Darling's death has now passed and for another legislative session, the Florida government has failed to take action.
Sen. Arthenia Joyner, (D-Tampa) has proposed the claims bill for seven years in a row to authorize payment to Darling's family. This year, Rep. Mia Jones, (D-Jacksonville) sponsored a similar bill in the House.
However, House Bill 3513 died in the Civil Justice Subcommittee. Senate Bill 16 earned approval from the Judiciary Committee and the Subcommittee on Education, but ultimately failed to survive the Appropriations Committee — a committee comprised of 14 Republicans and five Democrats.
"We have to relive this ever year, and we just want to be at peace," former NFL receiver Devard Darling, Devaughn's twin brother, said during a news conference in February. "We just beg and ask for the legislators to find it in their heart to have a heart and remember that it's not just a claims bill but there is a life behind that claims bill."
Maybe future Florida State Rep. Tim Tebow will find it in his heart to halt the political gridlock and deliver justice to the Darling family, because this is all about politics, not money.
As Michael Kruse highlighted in his in-depth piece about Darling's death:
The 2013 Florida State football team won the national championship. It was the Seminoles' first time in the national championship since the 2001 game in Miami when Devaughn and Devard Darling were on the team. The coach of the 2013 team, Jimbo Fisher, got a raise, from making $2.75 million a year to making $4.015 million a year. His assistant coaches got raises, too, from making a total of $2.86 million a year to making a total of $3.375 million a year. Added up, Florida State's football coaches received a per-year raise of just about ... $1.8 million.
The money is there. The University agreed to the settlement. Bobby Bowden and the rest of the football staff avoided trial and the national spotlight on their eventual testimony.
If the NCAA actually cares about its "student-athletes" it will do something. If any of the politicians in Tallahassee have a heart they will do something. If the Governor of Florida or its least-favorite Senator Marco Rubio give a damn about upholding the integrity of civil justice, they will do something
Of course, we all know nobody will do anything. The business of government is business and since Darling cannot help put any future dollars into the Seminoles' coffers, the state legislature will continue treating him as such — worthless.
Steve Silver is a former sports reporter for the Las Vegas Sun and is now a lawyer in Philadelphia representing athletes in eligibility proceedings. You can reach him at steve@thelegalblitz.com or on Twitter @thelegalblitz.

Photo courtesy of Getty Images.