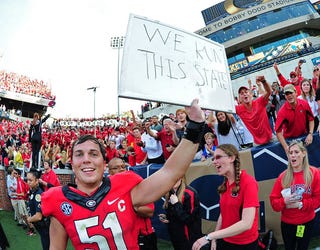 In preparation for a Final Four featuring two schools that openly disregarded the "student" part of "student-athlete," the NCAA and those whose massive paychecks depend on the current "amateur" model of athletics have launched PR campaigns to support America's favorite cartel.

In the span of one week, ESPN's Darren Rovell railed against paying college athletes, Seth Davis argued that athletes should ignore the NCAA's $11 billion March Madness TV deal because they get free food, and Big East commissioner Val Ackerman and Pac-12 commissioner Larry Scott wrote a paternalistic defense of the status quo filled with decades-old NCAA talking points.
In fairness, these defenses of the NCAA are expected from people who profit massively off of an unpaid labor force.
But down in the Peach State, the University of Georgia is taking things to a whole new level.
Less than a year ago, the University of Georgia lobbied its legislature to pass a laughable law known as "The Todd Gurley Law" under the guise of protecting NCAA athletes from unsavory and predatory agents, memorabilia dealers, and boosters after star running back Todd Gurley was suspended four games for accepting $3,000 in exchange for autographing various items. What the law really did was provide schools a civil right of action against anyone who caused an athlete to get suspended while doing absolutely nothing to help the athlete.
Now, Georgia is openly trying to punish its athletes seeking transfers while also attempting to disregard the First Amendment to shield its athletic department from open records requests.

Once again, the University and its head football coach, Kirby Smart, lobbied its legislature to pass a law to help shield athletic department records from the public. Senate Bill 323 easily passed the House with a vote of 166-2 and narrowly squeezed through the Senate 31-22.
If the governor signs it into law, the bill would change the response time for open records requests from 3 days to 90 days — roughly the length of a football regular season.
Hollie Manheimer, the executive director of the Georgia First Amendment Foundation told the Atlanta Journal-Constitution that
"This amendment — at the eleventh hour of the legislative session — is an affront to the purpose of Georgia's open records act, and all citizens should be disturbed. . . The amendment is so broadly written, it would make secret contract terms, letters of complaint or inquiry from the NCAA, plans for the expenditure of university and athletic association funds, and even more. No other public agency in Georgia is given 90 days to conduct its business in secret."
What the law does, as aptly highlighted by J. Scott Trubey is withhold newsworthy information about Georgia athletics' $117 million budget, shield expenditures such as Georgia's new $30 million indoor football practice facility, and darken the spotlight on the lavish spending of its $3.75 million per year coach who spent nearly $600,000 during a two-month recruiting span, including private jets and helicopters.
But that's not all. In addition to lobbying for a state law to shield his athletic department from disclosing these records, Smart is doubling down on his stance that "student-athletes" should not have the freedom to transfer just like every other student on campus.
That's right, the guy who makes close to $4 million per year has the power to restrict college transfers — power no professor on campus holds.
Smart's fear of losing players to the guy who recruited them to Georgia in the first place, new Miami coach Mark Richt, came to light when he told running back A.J. Turman he could only transfer to his home state of Florida, but not the Gators or Hurricanes.
Hypocrisy and shame are two words the NCAA clearly does not know.
So while the billion-dollar nonprofit runs repeated ads bragging about how most "student-athletes" will go pro in something other than sports, ask yourself why, if NCAA "student-athletes" are students just like every other student on campus, they can't they transfer just like everyone else? Also ponder why, unlike every other state agency in Georgia, the University's athletic department deserves special treatment from lawmakers?
Cue Puff Daddy.
Steve Silver is the founder of TheLegalBlitz.com. He is a former sports reporter for the Las Vegas Sun and is now a lawyer in Philadelphia. He recently presented at Drexel University's Department of Sport Management's College Athletes' Rights & Empowerment Conference: Visioning A New Paradigm of College Sport. You can reach him at steve@thelegalblitz.com or on Twitter @thelegalblitz.
Image via Getty Images.