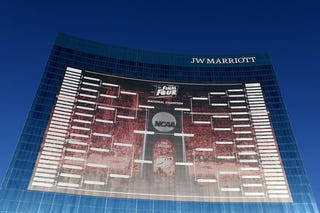 The ball is tipped.

And there you are.
You're running for your life, because law enforcement is hunting you down for illegally gambling on all of those silly brackets.
Okay, One Shining Moment does not exactly go that way, but in a year where nearly one dozen different state's Attorneys General have piled on the witch hunt against daily fantasy sports, why doesn't the government ever come after the March Madness brackets?
There sure are plenty to go around. This month, according to the American Gaming Association, Americans will wager $9.2 billion on the college basketball tournament this year. Amazingly, 40 million people will complete 70 million brackets. That is more brackets than the number of ballots cast in the presidential election in November. Yet of the $9.2 billion bet during the NCAA tournament, only about three percent will be done so legally.
So where is anti-gambling government enforcement? In this nation, our lawmakers have no problem trying to stomp out the alleged evils of sports betting, Internet poker, and daily fantasy sports. Yet somehow, March Madness brackets get a free pass.
But it is not because they are legal. Even the U.S. Navy recently warned its sailors not to participate in bracket pools.
As renowned sports law professor Marc Edelman explained, bracket pools seemingly violate three separate federal laws. First, the Interstate Wire Act of 1961 disallows individuals from "engaging in the business of betting or wagering [through the knowing use of] a wire communication for the transmission in interstate or foreign commerce." Since the Wire Act applies to the Internet, online tournament pools that collect entry fees and pay out prize money would violate the Wire Act.

Second, the Uniform Internet Gambling Enforcement Act of 2006 (UIGEA) makes it illegal for those "engaged in the business of betting or wagering" to "knowingly accept" funds in connection with the participation of another person in unlawful Internet gambling. Although the UIGEA offers a special carve-out provision for "fantasy sports," this carve-out only applies to games where winning outcomes are not based on the final score of actual game results. Since brackets are based solely on the final outcome of individual games, the fantasy sports carve-out is inapplicable and tournament pools do not comply with the UIGEA.
Finally, the NCAA's and NFL's pride and joy, the Professional and Amateur Sports Protection Act ("PASPA"), makes it illegal for any private person to operate a wagering scheme based on a competitive game in which "professional or amateur athletes participate." Volumes could be written about how PASPA has ripped tax revenue out of state coffers and placed more money into organized crime, but the most important point to know is that PASPA does not include a specific exemption for March Madness pools.

Although it is highly unlikely that anyone participating in an office bracket pool would ever actually be prosecuted, some lawmakers are seeking extra protection for their constituents.
This week, Arizona Department of Gaming Director Dan Bergin warned residents not to enter illegal March Madness pools. Bergin said that the key factor is making sure all the money put into the pool is paid out to the winners. Pools may be illegal if the operator takes a cut of the winnings or charges a fee to enter.
Connecticut has long adopted a similar approach, as has Montana, where so long as the "house" does not take a cut, brackets are legal.
In my home state, Pennsylvania, Sen. Lisa M. Boscola (D - Lehigh, Northampton) introduced a bill last year to legalize office pools. SB 388, has yet to be voted on, likely because PA's legislature is nearly a full year overdue in passing a budget. The bill would make it a first-degree misdemeanor to engage in pool selling or bookmaking unless the pool is "authorized." Sen. Boscola's bill defines an "authorized pool" as one that has 100 or less participants with a maximum wager of $20 per entry. All wagers must then be paid as prizes with the pool organizer not collecting any portion of the entry fees. Finally, the transaction of entering the pool must be "incidental to a bona fide social, professional or familial relationship."
Vermont has already passed a law similar to the one proposed in Pennsylvania.
However, none of these laws should even be necessary. At this point, who isn't gambling on sports in some form or another?
The government should certainly not shut down your $10 office pool, but why is it tolerable to gamble with brackets, but not in a sports book? This time of year, brackets are really a symbol of the incoherent and often conflicting federal and state gambling laws in this nation.
Regulation and taxation come with the territory when a lot of money is changing hands, but if we are going to allow one type of gambling, why not allow it all?
Steve Silver is the founder of TheLegalBlitz.com. He is a former sports reporter for the Las Vegas Sun and is now a lawyer in Philadelphia. You can reach him at steve@thelegalblitz.com or on Twitter @thelegalblitz.

Image via Getty Images.